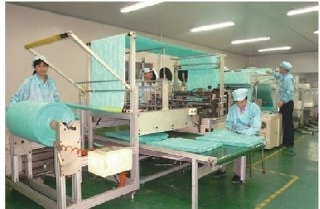 Shenzhen China Textile Filters Nonwoven Fabric Co., Ltd. is located Shenzhen City. Its an integrated enterprise specialized in manufacturing, researching and developing all kinds of filter materials and filter products. We have a group of highlevel professional and technical stuffs and advanced equipment, and our own patented technology. Our main products are: bag filter materials, activated carbon filter materials, spraying coating industrial filter materials, photo catalyst materials, PP filter paper, HEPA filter products, wet curtain, Evaporative cooling pads, humidifier filters, high efficiency filter material, melt blown non-woven fabrics, SMS compound fabrics, etc.. The products are widely used in clean room, laboratory, ventilation equipment, purification equipment, medical electronics and other industries of air and water purifications. After years of development, our products owned good reputation all over the world. With our excellent and experienced technician team, passionate and creativity work groups we are one of the advanced production and supplying base of filter materials and filter products, which possesses our own core technology and innovation ability.
Through unremitting efforts we established our good, full of challenge, ideals, and passionate workgroups. With our common goal: to provide more of our China Textile Filters product to this society and to contribute to the mankind's environmental protection! We cross the development, broke through the innovation, for this difficult mission, and we have been working to: create value for customers, mutual benefit and winwin; to contribute to society, harmonious nature; to create good opportunities for our staffs and we would develop with you together!
Through our high quality standard, we have received the "Shenzhen Top Brand", "China top ten enterprises of filter materials," We passed ISO9001 2000 quality certification since 2005. We are committed to be navigator of our filter industry, to provide our super quality, good price, on time delivery, advanced technology and we promise our service will always be satisfactory! ...