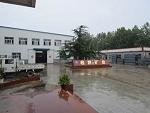 As a professional manufacturer of measuring and cutting tools in China, Shandong Famous Machine & Tool Co. Ltd. has 6 branch factories, 1,000 workers, 100 technicians and 80 engineers. Our company can produce and provide high quality tools with competitive prices for new and old customers, and can meet all the requirements of swiftly progressing machining technology
Main products:
Cutting tools: HSS twist drills, Carbide twist drill ,HSS machine taps, hand taps, metric and inch thread round dies, pipe thread dies, tap die wrenches, tap and die sets.
Measuring tools: pin gauges, ceramic pin gauges, carbide pin gauges, plain gauge, seeting gauge, taper gauge, snap gauge, spline gauge, API thread gauge, thread ring gauges, thread plug gauges, master gauges, ring gauges, steel gauge blocks, carbide gauge blocks, ceramic gauge blocks, English gauge sets, English library series, metric gauge sets, thread measuring wires.
Machine tool accessories: vise,liver centers, sleeve series, drill chucks, ER collets.ER nut. ...