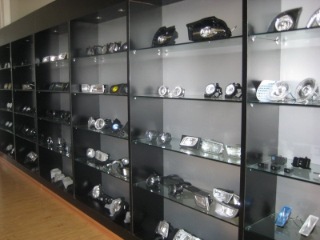 I am so surprise, So many customer ask me."Are you manufactory for roof box? Are you real factory for roof box?" I answer them."Yes ,We are the NO.1 CAR ROOF BOX factory in China!!!"Oh,my god. Because so many company put my CAR ROOF BOX in their web site,So Customer Misunderstand us,We have more then 45 kinds design, Any problem contact us free.
I will give u more and more factory detail.
We have car ROOF BOX BRAND is :TWE , PENTAIR,CALGARY,TYM.
Our company has become a big enterprise integrating development, production and sale. Our company's industrial park totally covers an area of 100mu and the building area is more than 70,000 square meters. We have four subsidiary companies, including a wholly-owned joint venture company. We have the capital assets of 100 million Yuan, 10 processing lines and 300 staff members, including 15 senior engineers and 30 engineers.
CAR FOG LAMP (include OEM FOG LAMP, LED FOG LAMP ,DAY RUNNING LIGHT ) is our other main product,we have more than 200kinds fog lamp design, main is use for Toyota ,Honda,Nissan ,LADA.If u need it,u can contact us.
The third product is CAR RACING PARTS,If you need air fitler ,steering wheel,shiftknob,camberkit,racing tire nut,you can email us for check.
At persen, Our products include Roof boxes,Car fog lamps, Steering wheel ,and Racing parts. We have more than 20 series more than 1000 kinds of products. Our company is one of the biggest auto accessory manufacturers in Ruian the capital of Chinese Auto & Motorcycle accessories and is one of the top 10 export enterprises in Wen Zhou. ...