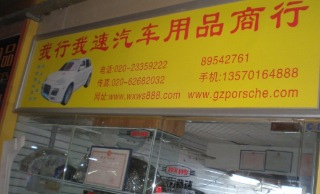 Guangzhou Woxingwosu Auto Supplies Firm is the guangzhou branch of the Hong Kong Porsche Conversion CO.,LTD .
Our main products are all kinds of accessories for cars including body kits for Porsche Cayenne /Techart/ Gemballa/BMW/Benz and others.
We also act as an agent of Taiwan Angel Eyes headlights, LED taillights/tail lamps, adjustable Coilovers for STD32 and other parts for cars (such as review mirrors, interiors, grilles, Luggage racks, lambos, air filters, exhausts and others). Our product materials include Carbon/ABS/PP/PU/FRP and others.
At the 4th China (Guangzhou) International Automobile Exhibition, we set up a good business image and created good business relationships with many business partners. Our products not only sell well in Mainland China and Hong Kong, but are also exported to North America, Japan, Australia, South Korea, the Middle East and other more than thirty countries and regions.
To ensure the good quality of our products, we set up strict standards for our company and factory. Both our materials and products must be double checked by particular workers.
Choose us, and you can rest assured!
We believe in "services first, customers first".
We serve customers for both wholesale and retail business.
We accept special orders if you provide a model for us.
We constantly introduce new products with competitive prices.
Your business and interest in our company and products are greatly appreciated.
Our firm is located along Yongfu Road, Guangzhou, China. The detail address is C 08, 3rd Floor of Grand International Building (Shengda Guoji), No. 40, Yongfu Road, Guangzhou, China. You are welcome to visit our firm.
Our factory is located in Baiyun District, Guangzhou, China. The total area of our factory is about 3,000 square meters. There are professional product designers and production teams to provide thoughtful service for you. ...