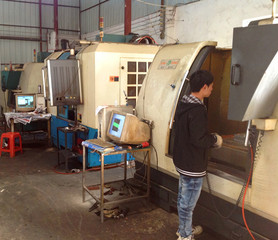 Guangzhou Shenjian Car Accessories Co., Ltd
Introduction:
Guangzhou Shenjian Car Accessories Co., Ltd was set up in July, 2010. We are located near No.106,National Road, Taihe Town, Baiyun District, Guangzhou. We are used to be Guangzhou Baiyun District Hongyuan Model Factory, which was registered formally in 2002 and we are specialized in inventing, designing and making moulds. Involved mould styles are plastic mould, metals mould, die cast mould and so on, and the assorted industry refers to the car accessories, car appliances, metals bathroom devices.
In July, 2010, the company formally registered and changed the name to Guangzhou Shenjian Car Accessories Co., Ltd. Since then, the company has devoted to inventing, producing and selling car trims inside and outside. Having 10 years' experiences in doing business with the car accessories companies and car appliances companies, Shenjian Car Accessories Co., Ltd has owned the whole set forming equipment in inventing moulds, making equipments, injecting moulds and punching as well as rich experience in car accessory industry.
Products:
Our products are sold at home and abroad including:
1, ABS chrome Front grill, Side door streamer, Rear trunk streamer, Head/Tail light cover, Fog light cover, Mirror cover, Door handle cover, Handle bowl and so on.
2, Stainless steel door tone door sills and Head/Rear bumpers.
3, Aluminum alloy decorated Running Board, Luggage rack.
The products of our company are for many car brands, such as: Toyota, Nissan , Mitsubishi, Volkswagen, Hyundai and Kia.
What's more, we also accept OEM orders and specially processing orders.
Business Philosophy:
Guangzhou Shenjian Car Accessories Co., Ltd will move on with the business philosophy of Independent innovation, constantly strive for perfection, be honest and keep faith. We take great pleasure to welcome domestic and foreign customers to do business with us and give good advice to us.
...