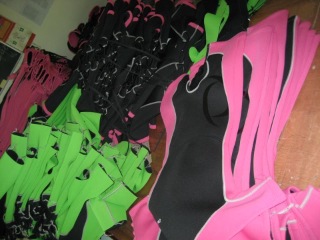 DongGuan Xinglong Sporting Goods Co,.Ltd is a manufacturer of neoprene products. With years' growth and development, we have made great achievements in the research and development of sporting goods.
Our main products are as follows:
1) Neoprene wetsuit: flat-lock, over-lock and glue/blind-stitching wetsuits
2) Lycra/fleece suits, rash guard, swimming suits: flat-lock, over-lock and cover-stitching suits
3) Neoprene accessories: gloves, socks, vests, hoods, spray decks, boots
4) Neoprene cases: for can/beer coolers; for protecting laptops, glasses, cameras, mobile phones
5) Snow boards, body board bags
6) Neoprene fitting and sports supports: slimming pants, slimming vests, waist supports, knee supports, ankle supports, elbow supports, wrist supports, thigh supports, shoulder supports
7) Buoyancy aids, breathable jackets
8) Miscellaneous surf/windsurf kayaks
9) Fishing waders: PVC waders, neoprene waders, breathable waders
10) Neoprene sheets
We can handle full processes, including:
1. Sample development:
A. We can do what our customers want. They can provide specifications, including size chart, production drawing, material need and construction way, also the brand they want.
B. We also can design styles for our clients. If our clients tell us their ideas, we can offer samples to them.
2. Raw materials source:
A. Fabric: There are normal textiles, such as nylon jersey, lycra, fleece and special various stretchy fabrics, we can purchase from both suppliers in mainland China and Taiwan area.
B. Neoprene: There are several suppliers in China and other countries who make high quality SBR and CR.
3. Slice/lamination: special machines for neoprene slab slice and laminate fabric are equipped. We are equipped with emboss machine to emboss different shapes or brands if our customers want.
4. Cutting & printing Dept.: We have printing technical and cut all fabrics according to our customers' requirements.
5. Heavy Stitching Dept.: various functional machines equipped, such as straight machine and double needle straight machine.
We are continuing to develop and design new products for our dear customers. We always design 4 ~ 6 new items every year and we also accept any new idea from our customers. We have confidence in our superior quality, competitive price, punctual delivery and professional communication. Careful attention that we always give to our customers will be surely followed with orders. Please contact Dongguan Xinglong Sporting Goods Co,.Ltd for any enquiry or sample request. ...