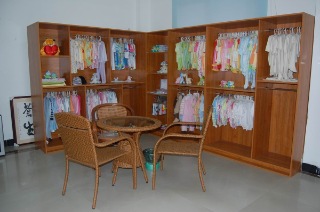 Wells Garments (Quanzhou) Co., Ltd./Our Brand:VOINUS | Voinus Supply chain | has specialized in one key area over the years: to fulfill garment manufacture orders for our clients with high efficiency, precision and punctuality. We have a wide range of medium and high-class on baby & kids and leisure adult item.style including babybody,romper,2pcs set,bibs,hat,glove,blanket on baby item.Hood jackets,sweat suit, windproof & waterproof jackets, polar fleece jackets, knit clothing, T-shirts, polo shirts, sportswear, jogging suits, fitness suits, pajamas and underwear.
We supply overseas garment wholesalers, retailers and advertisers with quality products, competitive prices and professional and efficient feedback. We accurately implement our clients' garment designs when manufacturing and our quality standard rate has reached 98% and we pride ourselves on prompt delivery or even delivery ahead of time.
Established in 2005, Wells Co. is located in Quanzhou, China's brand name clothing city. Covering a workshop area of 3,000 square meters, our company is equipped with CAD systems and we employ 150 skilled workers, a professional QC department, trained designers, export operation and assembly management teams as well as long-established cooperation with scores of manufacturers. Production plans are strictly coordinated to satisfy the different needs of different clients and our products sell well in Japan, Singapore, Australia, the Middle East, the Hong Kong area and European Countries.
Your satisfaction is our success. Thank you for reading and we are looking forward to the establishment of trade relations with you. ...