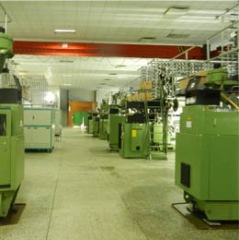 Fuzhou Grand Slam Textile Co,.Ltd. Established in 2011.It is located in the world wrap knitting and textile base Fuzhou, China.
It is the professional trading company specializing in various knitting laces and embroidery laces.We have owned ourselves wrap-knitting and embroidery factory. Equipped with more than 50 sets of KARL MAYER wrap knitting machines in MRPJ25/1,MRESJ43/1, RESJ73/1, MRESJF31/1/24,
MRESJF53/1/24, JL66-1, JL65-1, RSE4-1, RSE4-1 and more, and Swiss sular embroidery machine, it produces 1200 tons of products every year.
Thanks to its strong technical support and scientific management, it successfully passed the certification of ISO9001 and O-TEX100. Besides, the company has got the approval for import and export from Chinese Government. Its products are not only sold in whole China, but also exported to Southeast Asia, United States and Europe, where are highly appreciated by customers. Main products include: Jacquard lace and fabric, textronic lace and fabric, stretch jacquard mesh, stretch plain mesh, embroidery lace and embroidery fabric.
Our company develops hundreds of new design every year and attend many fair, such as Paris, USA, Hong Kong lingerie fair. Products are widely used in lingerie, underwear,dress, wedding garments. ...