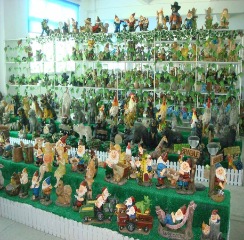 Shanghai Yingkuo Enterprise Co., Ltd. specializes in the production, design, trade and wholesale of gifts. With 11years of manufacturing experience, we produce a wide variety of Polyresin Arts, Ceramic Crafts and Plastic Crafts.
Our products include Polyresin Religious Crafts, Polyresin Hindu God Statues, Polyresin Nativity Sets, Christian Statues, Catholic Crafts, Polyresin Buddha Statues, Christmas Gifts, Resin Angel Gifts, Bird Houses, Bird Feeders, Gnome Planters, Solar Lamps, Fairy Gifts, Polyresin Tables, Dolphin Gifts, Tropical Fish Gifts, Tabletop Fountains, Garden Fountains, Wall Fountains, Fengshui Fountains, Animal Statues, Photo Frames, Polyresin Fridge Magnets, Money Boxes, Polyresin Bobble Heads, Pen Holders, Candle Holders, Clocks, Polyresin Water Balls, Snow Globes, Sport Trophies, Oil Burners, Jewelry Boxes, Music Boxes, Valentines Gifts, Halloween Gifts, Easter Items, Plastic Ducks, Frogs and Cars, Ceramic Mugs and a vast variety of other holiday favorites and daily items.
We use materials such as polyresin, plastic, ceramic and more. All the key materials we source have attained SGS and CE certifications, and we double-check them before the delivery.
Yingkuo has a strong design team and provides our customers with a simple formula of famous brand houseware and giftware products at competitive prices with high customer service standards to ensure that all specialist needs and wants are met. Product selection is critical. If you are constantly searching for something different from your own products, whether it's a toy, a mug, a bag or even a pen with different styles, contact Yingkuo soon. We have strong ability to offer customer exclusive promotional products and giftware.
Our only principle: Satisfy you, mutual benefit. We would like to cooperate with all customers in the world. ...