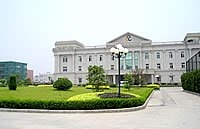 Founded in 1993 in China, Chartkar Textile (Hangzhou) Co., Ltd, is headquartered in Xiaoshan Economic and Technological Development Zone, Zhejiang Province, China. For almost 20 years, Chartkar Textile have been dedicated to establishing an industry-and-trade-combined enterprise with first-class comprehensive strength and providing more value-added services to customers. Our main strong products include 100% cotton, T/C and spandex fabrics for casual wear, work wear, uniform, children's wear...etc.
We have many weaving mills, dyeing & printing mills as strategic partners. All mills are equipped with world-class advanced equipments and have a large number of specialists in research of spinning, weaving and dyeing areas.
Through strict information process management, Chartkar Textile have established high-efficient reaction mechanism and perfect quality guarantee system. With the new service idea, we form a series of competitive advantages, such as steady quality, swift reaction, quick delivery, high quality and low price. ...