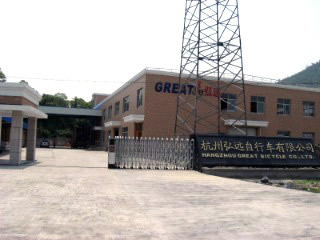 Establised in 2002, GREAT BICYCLE specializes in manufacturing bicycles and bicycle components. We have accumulated more than 15 years experience in manufacturing bikes, and therefore are professionally knowledgeable about bikes. We carry a huge selection, including Kids Bikes, Mountain Bikes, Hybrid Cross Bikes, Racing Bikes, City Bikes, Freestyle BMX and Folding Bikes, etc. We are capable of producing 400,000-500,000 units of various complete bicycles annually. The products are available in ISO, CPSC and CE certificate standard. This gives us the ability to service the majority of importers and wholesalers around the world.
All of our products sell well in more than 50 overseas markets, including the USA, the Middle East and South America. "GREAT" has become a premium brand in many countries and districts, like in Egypt, Israel, Chile with our own general agents. We are staffed by an enthusiastic and dynamic team who understand the customers' needs well and ensure you getting what you want. We develop more than 50 new designs every year, provide OEM and ODM service.
Top 5 reasons to choose us:
Serving the bicycle line for almost 20 years
One stop service and customer satisfaction
Cost effective price, Quality control
Knowledgeable sales staff to help you find the right bike that fits your lifestyle
Qulified technician with professional competence
We are expecting to be your long-term partner based on mutual benefits. Welcome potential buyers to contact us! ...