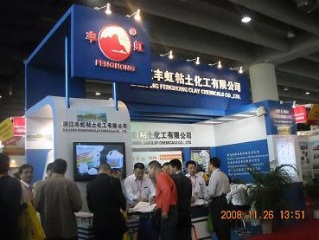 Zhejiang Fenghong New Material Co., Ltd. (F.C.C) is located in famous bentonite town of Zhejiang Province. It is the largest bentonite manufacturer in Asia.The first Asian Tianhuangping Pumped-Storage Power Station is also near our company.
Our company is an ISO9001 and ISO14001 approved advanced high technology enterprise engaged in the research, development, manufacture and trade in refined clay related products, such as organoclay rheological additives, nanoclay for polymer, bleaching earth, oil drilling mud, and cat litters. Our company owns 100 million dollars of fixed assets, and a land of 150 thousand square meters.
We have two factories - Zhejiang Anji Bentonite Refining Factory with Zhejiang Anji NO.1 Bentonite Mine, Liaoning Qinjian Refining Factory and a research center in Anji, Application Research Institute of Non-Metallic Minerals, as well as a bentonite mine with the reserves of four million MT. Our company produces 6 series of more than 80 different items bentonite refined products, including NANOLIN series of nanoclay; SM series inorganic gel (highly purified smectite); HFGEL, BS and JF series of organoclay rheological additives; high effective bleaching earth; pet litters; civil engineering specialized mud products.
We are the key enterprise in the city and county. Our company has experienced technical staff members including 12 senior engineers & chemists. We have established good relationships with customers, universities and other research institutes. ...