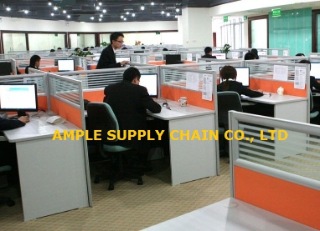 Ample Supply Chain (Shenzhen) Co., Ltd. (short for ASC) is a international supply chain service provider and international sea & air freight forwarder in China .
Our company integrate development, manufacture, sale and transportation ,which specialized in electronic products ,ie: memory card,portable speaker, mouse, etc. Our production base locate in Honghualing industrial Zone, Xili, Nanshan Dist, Shenzhen, China.We directly sell 32gb 64gb micro sd memory card for tablet pc,Class10 High quality full capacity 4gb 8gb 16gb 32gb micro sd memory card for gps with map, Class10 High quality full capacity 4gb 8gb 16gb 32gb micro sd memory card for DVD player and gps with map.
Our teams of highly trained have extensive experience in logistics & supply chain management, 3PL and international air and sea shipment, with the required knowledge and skills. We endeavor to provide one-station services of logistics & supply chain, including import-export logistics service, international purchasing service, sales service, procurement service, customs clearance service, bonded warehouse logistics service, special huge equipment international supply chain service and other value-added services.
We (ASC) are a leading logistics and international freight forwarding service enterprise in China. With our well-developed operation networks, nationwide logistics facilities, competitive unique business models, powerful information systems and our dedicated professional and creative teams, we are continuously providing innovative and excellent shipping an logistics service and have earned a high reputation from domestic and overseas customers. We have the capacity to handle all type of cargo transportation, including LCL, FCL, Bulk, Tank and Project cargoes.
Core services we offer:
International Logistics and supply chain services
Electronic products ,ie: portable speaker ,HDD Enclosure, mouse, etc.
Air Freight and Sea Freight Forwarding (Including shipping of FCL and LCL)
Pick Up and Door-To-Door Delivery
Project Shipping & Consulting
Freight Brokerage and Chartering services
Cargo insurance
Inland Transportation
Warehousing
Consolidation
Customs Clearance
Documentation
Other Value-added service, logistics services, packing, etc.
Ample Supply Chain (Shenzhen) Co., Ltd. (short for ASC) will continue to develop business relationships with friends of various circles and offer excellent products and service to our customers. We sincerely hope to build long-team reliable relationships with companies worldwide. We can meet all your shipping/freight/logistics needs and provide you with one-stop solutions. ...